Gary Warby, Director Premier Windows, explains why the energy efficiency rating of your home, could be key to getting the best mortgage deals available.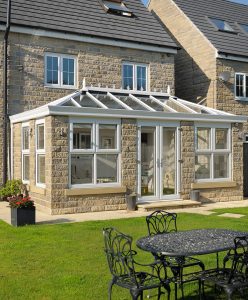 The UK's energy policy is a difficult subject. The Green Deal was axed in summer 2015, since when, the Government's plans to decarbonise our homes have been conspicuous only by their absence.
Since the Government scrapped the Green Deal last summer, people are now calling on the private sector to provide a solution.
The World Green Building Council has already launched an initiative to encourage lenders to increase the availability of mortgages for energy efficient home improvements including energy efficient windows and doors.
It has called on mortgage providers to offer homebuyers better borrowing rates for purchasing more energy efficient homes or committing to or implementing energy saving work within properties.
The WGBC has also commissioned studies to explore a hypothesis which suggests that occupiers of more energy efficient homes are less likely to default on mortgages, making them more attractive prospects to lenders.
This would create a positive cycle of lending. Homebuyers get a better deal on energy efficient properties or cash up front to improve the energy of their new homes. Mortgage companies get to lend at a reduced rate of risk.
Figures released by the Energy Saving Trust old windows account for around 25 per cent of heat lost from homes. It estimates that energy saving PVC double glazed windows and doors can cut this heat loss by up to 75 per cent.
Findings from the EST show that a this figure on a 3 bedroom semi-detached property, can equate to an annual saving of up to £160 a year in heating bills. The annual savings could be even higher where triple-glazed units are installed.
Green mortgages may not quite be with us – but we are already seeing home energy efficiency influence house prices, with double glazing or triple glazing high on the list of prospective buyers 'must haves'.
The new study by GoCompare earlier this year found that of those polled 74% of house hunters said that double glazing was their top priority other than central heating (79%). A good energy efficiency rating and cavity wall insulation were also highly rated features, mentioned by 53%.
This makes improving the energy efficiency of your home a shrewd move, whether you intend to sell, want to pocket the savings or have one eye to further savings and future green mortgage schemes.
Premier Windows supplies hundreds of energy efficient PVC-U windows and doors throughout Aylesbury each year, making homes not only warmer but more secure. This includes an extensive range of low maintenance and energy efficient PVC-U windows. These can achieve top u-values and Window Energy Ratings, including WER A++.
Please don't hesitate to contact me direct or a member of the team on 0800 854 353 or enquiries@premwindowsanddoors.co.uk to find out more.