Gary Warby, Director Premier Windows, discusses the important reasons for caring for your new energy efficient windows and doors and what you can do.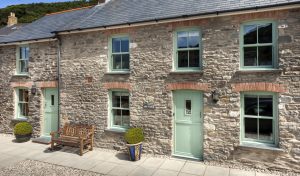 PVCU energy efficient windows and doors are low maintenance – they'll stand up to the toughest weather and keep your home warm and secure for years – but from time to time, they still need some care.
By providing the correct care and maintaining them, you will maximise the life expectancy of PVC-U windows and doors and the great thing is, it requires only the minimum amount of effort.
That's because compared to timber windows and doors, which require regular repainting to make sure that they don't warp, crack or rot, energy efficient u-PVC windows require little more than a simple wipe over and a little lubrication.
So here are our top tips for keeping your windows and doors in the perfect working order:
Carry out basic maintenance once every three months
Wash and clean frames with a mild soap solution and soft rag and glass with specialist cleaner. Avoid abrasive cleaners, vinegar, high ph or citrus based cleaners as these can damage surface finish
Tracks and sills should be cleaned and debris vacuumed away regularly.
Hinges and hardware should be regularly wiped clean of dust, sand and debris
After cleaning it's important to make sure that all moving parts are lubricated. Hinges should be oiled with a light 3-in-1 type lubricant but be careful not to over lubricate and avoid using spray oils
Condensation – PVC windows naturally resist mould but it can develop if windows are regularly exposed to condensation. This is not caused by windows but a lack of ventilation. Open windows regularly to let out moisture and if build up has occurred, spray and wipe away with a fungicidal wash.
And if you do find something that needs fixing or you simply want a second opinion, please don't hesitate to contact us.
We have a team of remedial work engineers, who can offer advice and support on everything from misted double glazing to 'clunky' locks and opening.
Please call enquiries@premwindowsanddoors.co.uk or call 0800 854 353 to find out more.