Recent research by Nationwide Building Society has found that extending your home could increase the value of your property a whopping 22%.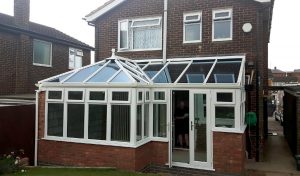 Premier Windows is highlighting the opportunity to homeowners to maximize their return on investment even further by choosing a contemporary glazed extension.
"The price point is just the starting point. A conservatory or hybrid orangery-type glazed extension comes in at just a fraction of the cost."
"An orangery or hybrid solution is flexible and suitable for use as a kitchen, playroom and other living spaces. It can also offer a bright and charming flow from your property to your garden."
Premier Windows offers a complete range of conservatory options. This includes the Livin Room, which built around a traditional conservatory frame features brick-work pillars and internal boxing to create a much more substantial feel at an affordable price-point
Gary added: "A number of reports have recently highlighted the opportunities for homeowners to add significant value to their properties through the addition of square footage. A glazed extension is the most cost effective way to do thist."
For more information about our high security windows and doors, please email enquiries@premwindowsanddoors.co.uk or call a member of our team on 0800 854 353.