Thinking of upgrading your front door but cannot decide if a uPVC or composite door is the way to go? You are not alone; our customers often ask us which is best for their homes. So, as we install both, we have taken a closer look at either option to help you decide:
Composite front doors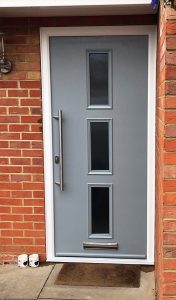 Built from various materials that are expertly combined, composite doors offer many excellent performance benefits:
Composite doors have a glass-reinforced plastic (GRP) exterior. This material is exceptionally durable, ensuring they offer incredible resistance against warping and the weather. They also resist scratches and other forms of damage very well too.
The GRP exterior is also embossed with natural, highly attractive woodgrain textures. They also come in a varied range of 40 colours!
Our composite doors come in 27 different glass design options, giving you a wealth of opportunity for customisation.
As they've achieved Secured by Design accreditation, the levels of security they provide are nothing short of outstanding.
uPVC front doors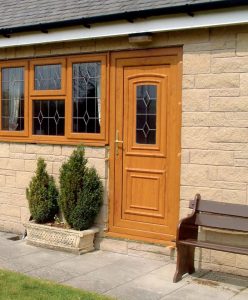 A reliable front door option that will never let you down, uPVC front doors have plenty of impressive features:
Resistant to warping and discolouration, uPVC is a material designed to retain its strength and looks after extensive exposure to the sun and weather.
uPVC is known for being super easy to keep clean. Wiping it down occasionally with a soft cloth and warm, soapy water is all it needs.
Available in a wide range of smooth and woodgrain finishes, the latter replicating the natural beauty of real timber, uPVC doors can be adapted to suit a wide range of properties.
Fitted with Secured by Design multipoint locks and anti-bump lock cylinders, they do an excellent job of securing the home against potential intrusions.
Are composite or uPVC doors more thermally efficient?
With the Green Homes Grant, UK homeowners can receive a voucher worth up to £10,000 to spend on making their home more energy-efficient (terms and conditions are available on the UK government website). With this in mind, thermal performance might be one of the most important factors in whether a uPVC or composite door is right for you.
uPVC is a naturally insulating material. Plus, uPVC door frames have been fitted with several heat-trapping chambers. So, uPVC doors a great job at trapping heat in the home. However, composite doors are fitted with ultra-dense foam cores. This allows them to achieve an energy rating of 'A' and makes them some of the most energy-efficient doors on the market.
Do uPVC or composite front doors cost more?
For a uPVC and composite front door of the same size, you can expect the uPVC one to be cheaper generally. However, there are other factors affecting cost:
The size of the door
Your chosen style
If decorative glass or another glass type has been fitted
The door furniture (handles, door knockers, letter plates)
Ultimately, uPVC doors are a reliable, more cost-effective entrance door solution that will not let you down. However, if you are looking for something a bit more premium, with better thermal and security performance, composite doors are the way to go.
Outstanding front doors installed across Buckinghamshire
Whether a uPVC or composite front door is right for your home, Premier Windows can help. For more information or for a free, no-obligation quote, give us a call on 0800 854 353 or contact us online.