As we continue to enjoy the British summer, you might have considered ways to make the most of the sunshine at home. Naturally, this search will lead you to bifold and sliding patio doors, as both allow you to bring the outside and the sunshine into your property. But, which option is right for you, bifold or sliding doors? Let's take a closer look and find out:
Bifold doors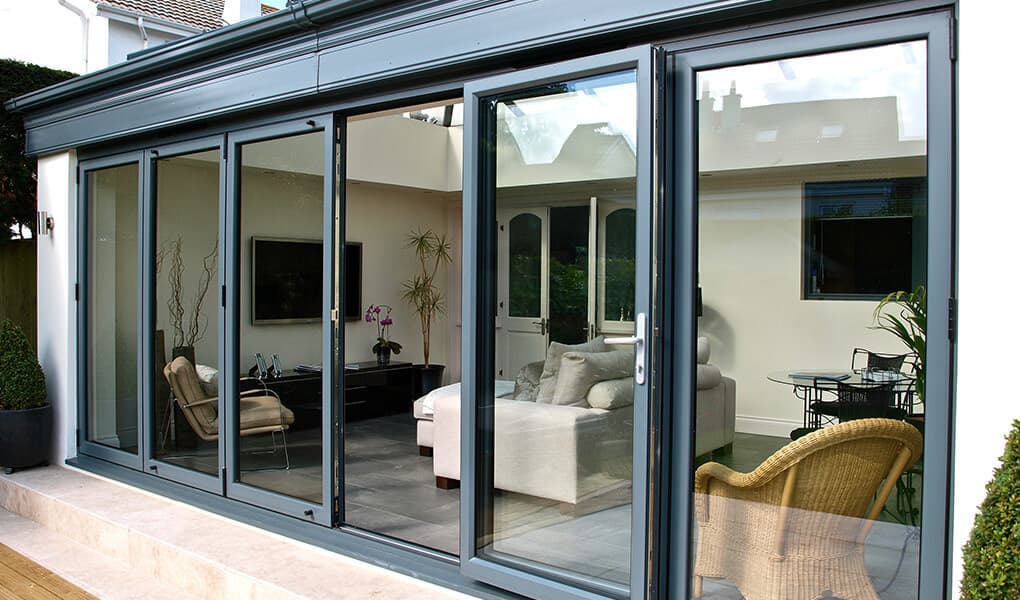 To open, bifold doors fold in a concertina style and the individual door panels stack atop of one another. This will completely open up your home to your garden, allowing you to move between the two areas with total ease.
Available with as little as 3 or as many as 6 panels, they can be configured to open inwards or outwards and fold left, right or both ways. This means that, not only can they fill large and small apertures but their design can be adapted to suit your individual preferences.
Choose from either uPVC or aluminium bifold doors. Whatever you prefer, either material can be kept clean with ease.
Our aluminium bi-folds have a U-value of 1.6 W/m²k and our uPVC variants can be fitted with Recycled Composite Materials, ensuring either option is great for achieving an energy-efficient home.
Equipped with toughened glass and a shoot bolt locking system, our bi-folding doors will not compromise the security of your home whatsoever. So, although they let the outside in, that doesn't include any unwanted visitors.
Sliding patio doors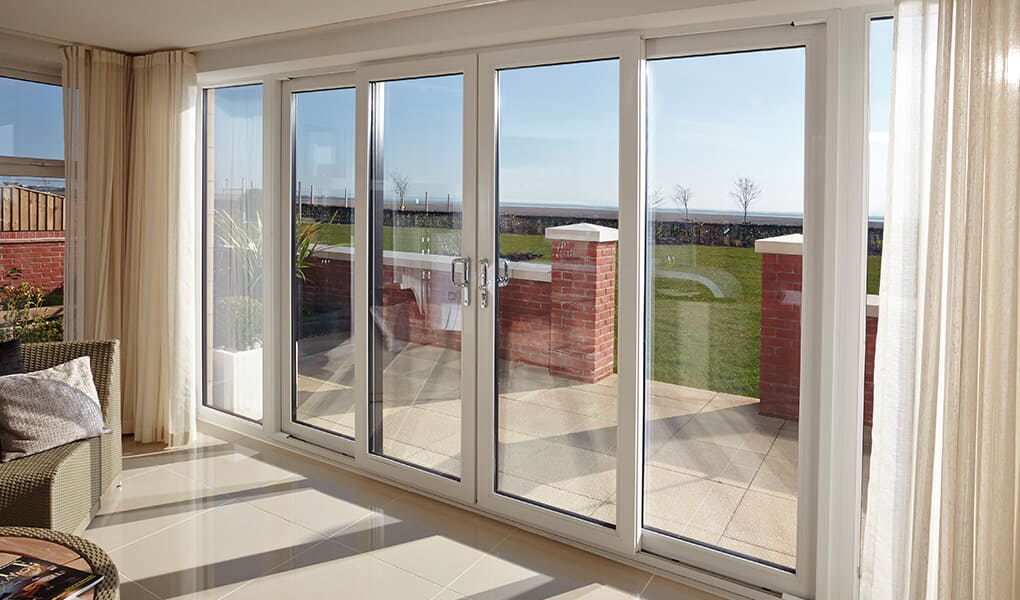 Sliding doors tend to be made up of larger panes of glass, which slide behind one another for the doors to open. So, when closed, they offer a slightly less interrupted view of your outside space than bifold doors. However, when open, they don't open up your home to the garden as much.
There is an excellent amount of flexibility with patio doors; they are available with 2, 3 or 4 panels and it's possible for them to open to the left or right. For 4 panel options, one door can open to the left and the other to right.
Built from low maintenance uPVC, our patio doors can achieve U-values as low as 1.2 W/m²k. This is a remarkable thermal performance, ensuring they're more than capable of keeping your home at a comfortable temperature all year long.
Thanks to a multipoint locking system, they are secured at various points in the frame. Anti-jacking hardware is also present, stopping any sliding door panels from being removed externally. Therefore, they are incredibly secure, offering you and your family total peace of mind.
Like bifold doors, they are available with a low threshold option. This is great for reducing the risk of tripping and it makes transitioning through the doors that much easier.
| | | | | | |
| --- | --- | --- | --- | --- | --- |
| | U-value | Multipoint locks | No. of panels | Available materials | Low threshold option |
| Bifold doors | 1.6 W/m²k | Yes | 3-6 panels | uPVC & Aluminium | Yes |
| Patio doors | 1.2 W/m²k | Yes | 2-4 panels | uPVC | Yes |
Up to 30% off sliding and bifold doors!
As part of our exclusive summer offer, we're offering up to 30% off on our windows and doors. So, if you've decided whether bi-folding or sliding doors are right for you, now is the ideal to purchase either set for your home! To get a free quote for either option, call us on 0800 854 353 or get one online.